About Tonkin FIAT in Portland, Oregon - New FIAT and Used Car Dealership serving Vancouver WA, Beaverton, Hillsboro OR and Milwaukie
From before you even walk into our showroom to long after you drive home, all of our customers here at Tonkin FIAT are customers for life. Being car-owners ourselves, it's only fitting that we'd provide our drivers with the kind of courtesy, service and respect that we would expect.
It all start with our extensive lineup of fabulous new and used FIAT models. Whether you're looking for something for the whole family to enjoy or something to spice up your daily commute, the world is your oyster when you consider the lineup of vehicles we carry. And thanks to the car loan and FIAT lease options that are available throughout the year, it's never been easier to get behind the wheel on your terms.
From there, the experts in our car service and maintenance department will be there to make sure that your vehicle will continue to run as smoothly as it did on Day One. Or if you're looking do some upgrades with the latest and greatest FIAT parts on the market, you can trust the experts at Tonkin FIAT cover your automotive needs.
The service never stops once you visit us here at Tonkin FIAT. There's never been a better time to drop on by at our dealership here in 9008 SW Canyon Rd Portland, Oregon, proudly serving drivers from Beaverton, Hillsboro, Milwaukie and Vancouver WA. We're very much looking forward to it.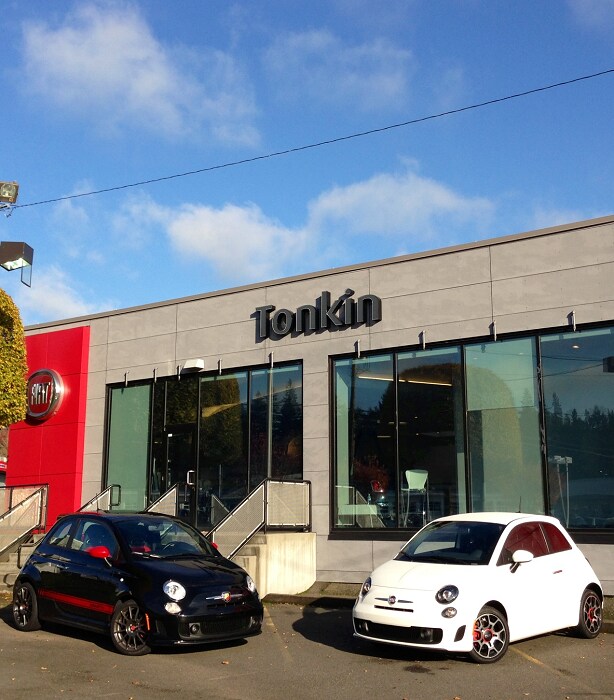 Some cars go down in history for their technological or stylistic innovations. Others deserve to be remembered sentimentally for the role they've played in the daily life of an entire generation or country. But few succeed in combining the two - technology and sentiment - and leave an eternal mark.
Now in over 80 countries, the FIAT 500 has evolved into a beloved global icon, winning the hearts of passionate drivers, motor journalists and judges alike. Most recently winning 60 international awards, including being named 2008 European Car of the Year and 2009 World Car Design of the Year. Additionally, FIAT MultiAir Technology was recognized as the "Single Most Innovative Engine Technology" of 2010 by the International Engine of the Year Awards panel. Now that's love.
At Tonkin FIAT we have strong and committed specialists with many years of experience satisfying our customers' needs, and look forward to the opportunity to introduce you to the FIAT brand!